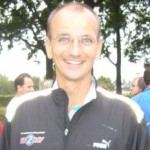 Loopgroep Freerunners bestaat sinds 2003 en is ontstaan uit de loopgroepen AGIS in Beweging en Start to Run (Nike). Onder leiding van looptrainer Rob de Vries, die zijn jarenlange ervaring als wedstrijdloper gebruikt om anderen enthousiast te maken en te houden voor hardlopen, is er een loopgroep van zo'n 50 leden ontstaan. De meeste leden komen uit Amersfoort en Leusden.
Bij de Freerunners werken we op een plezierige manier aan onze conditie. Dat doen we in teamverband, door gevarieerde hardlooptrainingen op verschillende locaties in Amersfoort en Leusden. Ook dagen we onszelf en elkaar zo nu en dan uit via looptesten en eventueel loopwedstrijden in de omgeving.
Wil je meer weten over de Freerunners of een keer vrijblijvend meedoen? Neem dan even contact op met Rob.